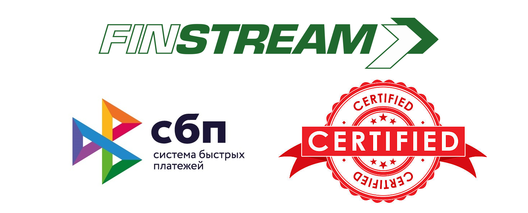 FinStream has become a certified vendor for the NSPK'S SBP (Fast Payment Systems) solution. As a result of testing, the company's solution based on AnyWay Payment Hub, which has been in commercial operation for several months in one of the top ten banks, has successfully passed the NSPC certification (https://sbp.nspk.ru).
The FPS project was launched on January 28 this year. Currently, 20 banks are connected to the FPS. Customers of these banks can instantly transfer money to each other by a simple identifier: phone number, social network account, e-mail address or QR code - regardless of the banks where their accounts are located. The FPS operator is the Bank of Russia, and the operational payment clearing center is the National Payment Card System (NPCS).
"We actively offer Russian banks already fully ready-made solutions for the full implementation of SBP. Nowadays in industrial operation of payment for C2C, M2M and C2B with appliance of QR codes. The process of approval of the solution architecture and signing of contracts with 10-12 credit organizations of Russia is going on. The solution on providing the service of working with BPS by SaaS-model is deployed. In the nearest plans: implementation of specifications of C2G and G2C payments (payment for public services and fines), and also B2B (transfers between legal entities). We can help to quickly connect to the new standards as soon as they are ready on the part of the SBP", - said Lev Gunitsky, CEO of FinStream.

***
FinStream is a specialist company with a focus on the development and integration of solutions for extensive self-service networks based on ATM's, self-service terminals and information kiosks. Established in 2008, FinStream has implemented 100+ projects in 5 countries.